Reports and public documents produced by WASP.
Annual Review
Starting in 2022, WASP is producing an easy-to-read annual review over the past year. It is available online and in print. Please send an email to info@wasp-sweden.org if you wish to recieve a printed copy.
Strategy
The ambition of WASP is to advance Sweden into an internationally recognized and leading position in the areas of artificial intelligence, autonomous systems and software. In the document WASP 2030- Paving the Way, WASP present its strategy and elaborates its long-term ambitions.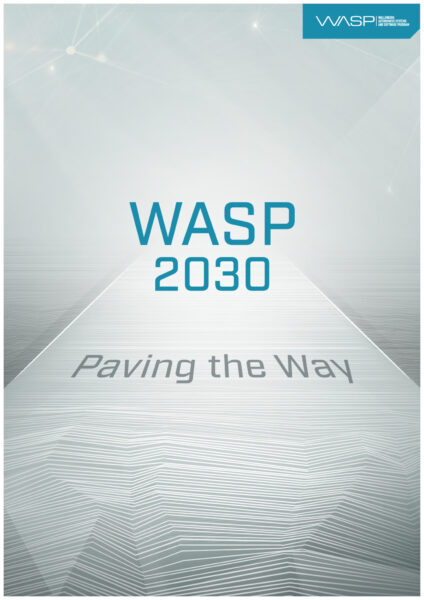 This document points out the direction and long-term strategy of the program. It also covers the nine wanted positions that WASP seeks to accomplish.
Editor: Anders Ynnerman
Download: WASP 2030 – Paving the Way
---
Reports
During the early years of WASP, much effort was invested in drawing the current and possible future map of available infrastructure for AI, Swedish research excellens, and the technology readiness in Swedish industry within WASP's scientific fields. The following reports are part of the results of this investment.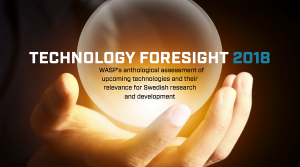 This is an anthology of descriptions, assessments and reflections about upcoming technology. The objective is to establish current status and future potential in one single document, to function as an instrument for WASP in their endeavor to enable sustainable Swedish excellence in artificial intelligence, autonomous systems, and software for the benefit of Swedish industry. The document is compiled by individual expert contributors from all represented fields.
Editor: Mille Millnert
The report is commissioned by the Wallenberg AI, Autonomous Systems and Software Program (WASP) and the Swedish National
Infrastructure for Computing (SNIC). The report forms the foundation for a planned investment in dedicated nationally available
computational resources for research using AI methodology, such as Machine Learning.
Editor: Anders Ynnerman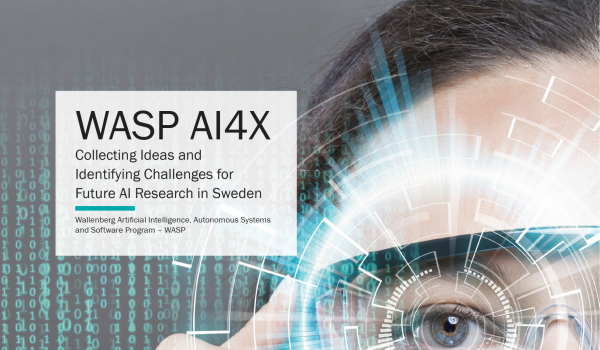 This report surveys the condition of AI and its use within various sectors in Sweden. During spring 2018, industrial leaders, business leaders and researchers gathered for the conference series AI4X and this report is one result from the meetings.
With contributions from 195 speakers, with 100 representatives from industry and 95 from the academic world, the report provides an overall image of how AI is currently used in Sweden. The report also discusses how work in AI should develop, and makes recommendations at the national level for how the academic world and industry together can ensure that Sweden remains at the forefront of research and development in artificial intelligence.
Some of the report's recommendations:
Draw up a Swedish research agenda for AI
Invest in multidisciplinary research – the very nature of work in artificial intelligence is multidisciplinary
Create a strengthened ecosystem – courses and programmes in AI must also be improved to increase knowledge about AI throughout society
Create an active and vital discussion concerning digitalisation and artificial intelligence
Use Sweden as a testing ground, where new technology and applications can be tested and evaluated.